I made cookies today to send to friends and loved ones, and the post office closed an hour early so I didn't get to send them. DANG! So instead I'm going to post the super-fancy photo-illustrated recipe.
These are very lamely and nerdily inspired by all of the research I've been doing on Aztecs lately. They're chocolate-chip sandwich cookies with a little bit of chipotle powder in them so they're a little spicy, and the frosting to sandwich them is honey-vanilla-cinnamon buttercream. These are also good without the frosting if it's not your thing.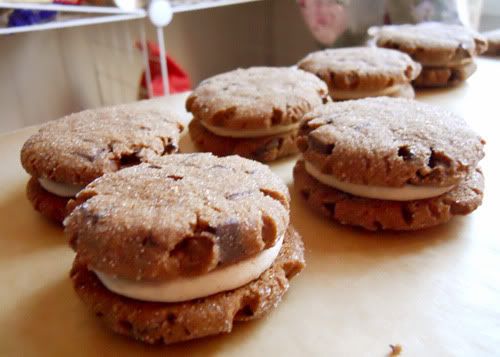 INGREDIENTS & INSTRUCTIONS
Cookies:
1 1/2 c. + 1 Tablespoon flour
1 teaspoon ground ginger
1 tsp. ground cinnamon
1/8-1/4 tsp. ground chipotle (for less spice use cayenne pepper or more ginger)
1 Tbsp. cocoa powder
1/2 tsp. baking powder
1/2 c. unsalted butter, softened slightly
1/2 c. brown suger, packed
1/4 c. honey
1 tsp. baking soda
1 tsp. vanilla extract
~7 oz. chocolate chips (I used dark chocolate mini-chunks)
~1/4 c. granulated sugar
In a medium bowl (save your big bowl) combine the flour, ginger, cinnamon, chipotle, cocoa, and baking powder.
In your big bowl, beat the butter and brown sugar until it's evenly mixed and fluffy. Add the honey and vanilla and beat until combined.
In a small bowl (or even a shot glass or something), dissolve the baking soda in 1 1/2 tsp. boiling water. I just microwave some water in a coffee mug for 2-3 minutes to get it pretty hot.
Beat half of the flour mix into the butter mix, then beat in the baking soda mix, then beat in the rest of the flour mix. If the mix is going to be too dry and crumbly to roll into balls, add a little more soft or melted butter.
Add the chocolate chips and refrigerate the dough for about half an hour.
Preheat your oven to 325 degrees and line a baking sheet with parchment or wax paper. Roll the dough into 1"-2" balls depending on how big you want your cookies to be. Roll the balls in the granulated sugar and flatten slightly on the baking sheets. Because I wanted to make them sandwich cookies I made smaller, flatter cookies.
Bake for 15-20 minutes depending on the size of your cookies. When the surface starts to crack it's a good indicator to take them out. Let them cool before frosting them.
Frosting:
1/2 c. butter or margarine, softened
2 1/2 c. powdered sugar (confectioner's sugar)
3 Tbsp. honey
1 tsp. cinnamon
1-2 tsp. vanilla extract
Cream all of the ingredients together.
To put the frosting on, I cut the corner off of a sandwich baggie to use it as a bootleg piper. Twist the open end of the baggie tightly closed and go to town.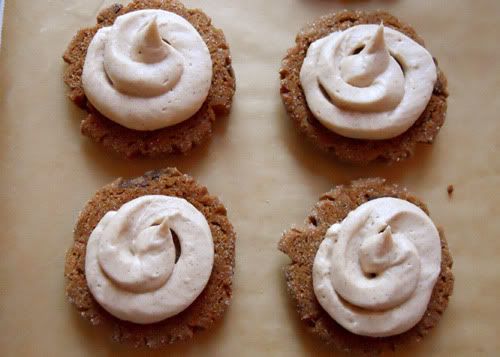 MERRY CHRISTMAS/HAPPY HOLIDAYS!